The Hate U Give by Angela Thomas
By Jenevive Desroches on Wednesday 11 April 2018, 08:40 - Book Review - Permalink
"The Hate U Gave Little Infants Fucks Everybody. Meaning… what you feed us, as seeds, grows and blows up in your face. That's THUG LIFE." ~Tupac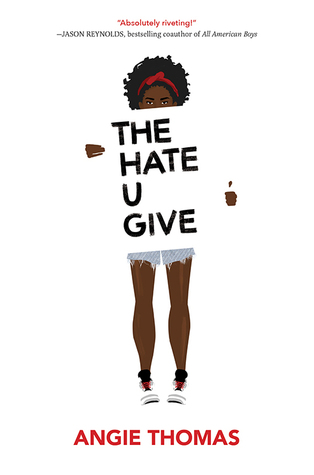 Starr Carter is a pretty typical 16 year old. She likes music and TV. She plays basketball and hangs out with her friends, who have her back when she's fighting with her boyfriend. She's also seen two of her friends murdered by gun violence. The second murder, at the hands of a police officer, becomes a catalyst, not only for Starr, but ultimately for her entire neighborhood.
When I grabbed this book off the shelf last summer, I was acting on rave reviews with little other knowledge. I knew I wouldn't get to it right away, so I handed it to my kid (12, at the time, and a voracious reader). When I asked to borrow it back, the dust jacket had been lost, and the cover scuffed from being carted around, read and re-read. This book had been well-loved. I cannot give a higher recommendation.
The writing is eloquent, the storytelling is masterful, the characters walk out of the pages and into your heart. I laughed, I cried, and I didn't want the story to end, even though the ending was as perfect as the rest. The story is both timely and (sadly) perennial. If you haven't read this one already, please do.