Wonder by RJ Palacio
By Jenevive Desroches on Friday 12 January 2018, 08:31 - Book Review - Permalink
Everyone is a little different. But what happens when someone is a lot different? Could you step back and get to know someone who made you uncomfortable?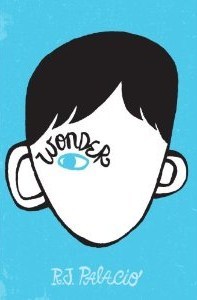 In Wonder, Palacio explores the realities of living with a physical difference that draws a visible distinction between people. We follow along as August Pullman, 5th grader and inheritor of a rare and unfortunate genetic mutation, makes his way out into the larger world for the first time in his life. We see the experience through the eyes of his family and his new-found friends… see their parallel struggles and heartaches. And we share in their triumphs, both individually and collectively.
Palacio has written this story with incredible grace and compassion. It's heart-warming and sweet as often as it's difficult. And if you have the option, I highly suggest reading the Special Edition, which includes a chapter from the book's main antagonist (apparently this was available in the original e-book, but not the original hardcopy - it's worthwhile either way). It completes the book in a really lovely way, keeping the handling of all the characters true to the story's intent.